The Worst Cities For Black Americans
By Samuel Stebbins and Evan Comen
15. Chicago-Naperville-Elgin, IL-IN-WI
> Black population: 1.6 million (16.9%)
> Black median income: $36,017 (47.3% of white income)
> Unemployment: 18.7% black; 5.8% white
> Homeownership rate: 39.9% black; 74.6% white
A history of exclusionary zoning, redlining, and discriminatory lending practices in Chicago throughout the 20th century has led to deeply entrenched segregation in the Midwestern metropolis and contributed to some of the largest racial disparities in income, education, and health of any U.S. metro area. While nationwide the typical black household earns 60.1% of the income the typical white household earns, in Chicago the typical black household earns just 47.3% of the typical white household's income. Just 21.3% of black adults in Chicago have a college degree, less than half the 43.7% of white adults with a degree. Additionally, the black unemployment rate is more than three times the white unemployment rate.
Link About Islam & Slavery
Why is it so challenging to deal in legal Black-Money?
Artist Call for Entries- due June 29
2018 Black Heritage Through Visual Rhythms Juried Art Show

The National Afro-American Museum and Cultural Center (NAAMCC), the Ohio History Connection (OHC), The King Arts Complex Columbus, and the African American Visual Artists Guild (AAVAG) are presenting the fifth annual Black Heritage Through Visual Rhythms National Juried Art Show. Artists from across the United States are invited to submit their work to the juried art exhibit in the new categories updated for this year: Best of Show; Social Justice; Identity; and Surroundings (includes still life and landscape). The show is open to all artists, however, all submissions should emphasize themes and perspectives related to the African diaspora and/or African American culture, history or experience.

Winning prizes:
Best of Show: $3,000.00
1st Place- Surroundings: $1,000.00
1st Place- Identity: $1,000.00
1st Place- Social Justice: $1,000.00
National Eat at a 
Black Coffee Shop Day
Tuesday, May 29, 2018
Chicago - After the recent Starbucks incident involving the arrest of two Black men in Philadelphia, Pennsylvania, most Black people had one of two responses: either boycott Starbucks or open our own coffee shops.
National Eat at a Black Coffee Shop Day combines the best of these ideas. On Tuesday, May 29, 2018, tens of thousands of Starbucks customers will try a new coffee experience at a Black-owned coffee shop.
Black coffee houses, coffee shops and tea houses, under the umbrella of The Black Star Project, have formed a federation to flex their collective and connective muscle in the competitive coffee marketplace. They are working together to get out the word that their coffees are just as good, or better, than Starbucks.
These Black coffee houses expect to win significant market share on Tuesday, May 29th because that day Starbucks is closing more than 8,000 U.S. units for diversity training.
Black Dollars Circulate in Black Communities for 6 Hours
The dollar circulates in: 
Asian communities for 28 days
Jewish communities 20 days
White communities 17 da
The World- Since the launch of the growing Black Age of Comics genre in 1993 the tension between the mainstream and this dream has resulted in many an amazing expression. None are more vital than the two historic "BLACK COMIX" mega sized anthology album books that feature the works , stories, backgrounds and information about the seriously gifted and dedicated sisters & brothers who make it so. there is even a listing of all of the indie annual events that facilitate this movement. 1993 officially put the "Black" in this hybrid of visual & literary art. Now your collections, libraries, living rooms, media centers, classes and companies can better get their Black on! "Indie today: Black Age Forever"! "Black Comix Returns" by Damian Duffy & John Jennings per Lion Forge/The Magnetic Collection.....via Amazon.
This is not personal, sexual or social.  It is about the power grown when dealing in legal Black-Money!
This Limited edition Black Panther statue is about the same height as the Academy Award "Oscar".  Except you can not buy as "Oscar". Prof. Onli is auctioning off the BP icon.  Started at 4250.00 now the "floor asking rate" is $1,500.00.
Blacks in America have about a $1.3 trillion gross national income.  Only 2% of that money, about $26 billion, is re-circulated in the Black community. 
The Retirement Crisis Facing African Americans 
There's a saying: When white America catches a cold, black America catches pneumonia. So, if there is an impending 
retirement crisis
 in America, what does that mean for African Americans? The answer to that question is discouraging.
African Americans Tend Not to Invest in Stocks
Some analysts also say that African Americans often shy away from investing in the stock market. "Whatever discretionary income we have, we tend not to invest in equities," says Rockeymoore. "We don't have a diversification."
This may be due to a lack of comfort with the stock market.  "African

 Americans are risk-averse," says Deborah Owens, a former Fidelity Investments vice president who calls herself America's Wealth Coach. "So, one of the major reasons they have less in retirement savings is they are ultra-conservative, particularly African Americans who work in the public sector and nonprofit organizations."
Owens says black investors typically focus on guaranteed or fixed investments that are low-risk or no-risk. As a result, their retirement funds aren't compounding at a high rate of return.
According to the Federal Reserve, the average balance of African Americans in 401(k)s is only $23,000. And 
Social Security and the Racial Gap in Retirement Wealth
 found the average balance for African Americans in pensions and IRAs was $10,300, vs. $105,600 for white Americans.
Owens believes many African American workers don't take full advantage of all the choices in their employer-sponsored plans because they don't understand them. "The tendency to be risk averse is directly correlated to their lack of knowledge," she says.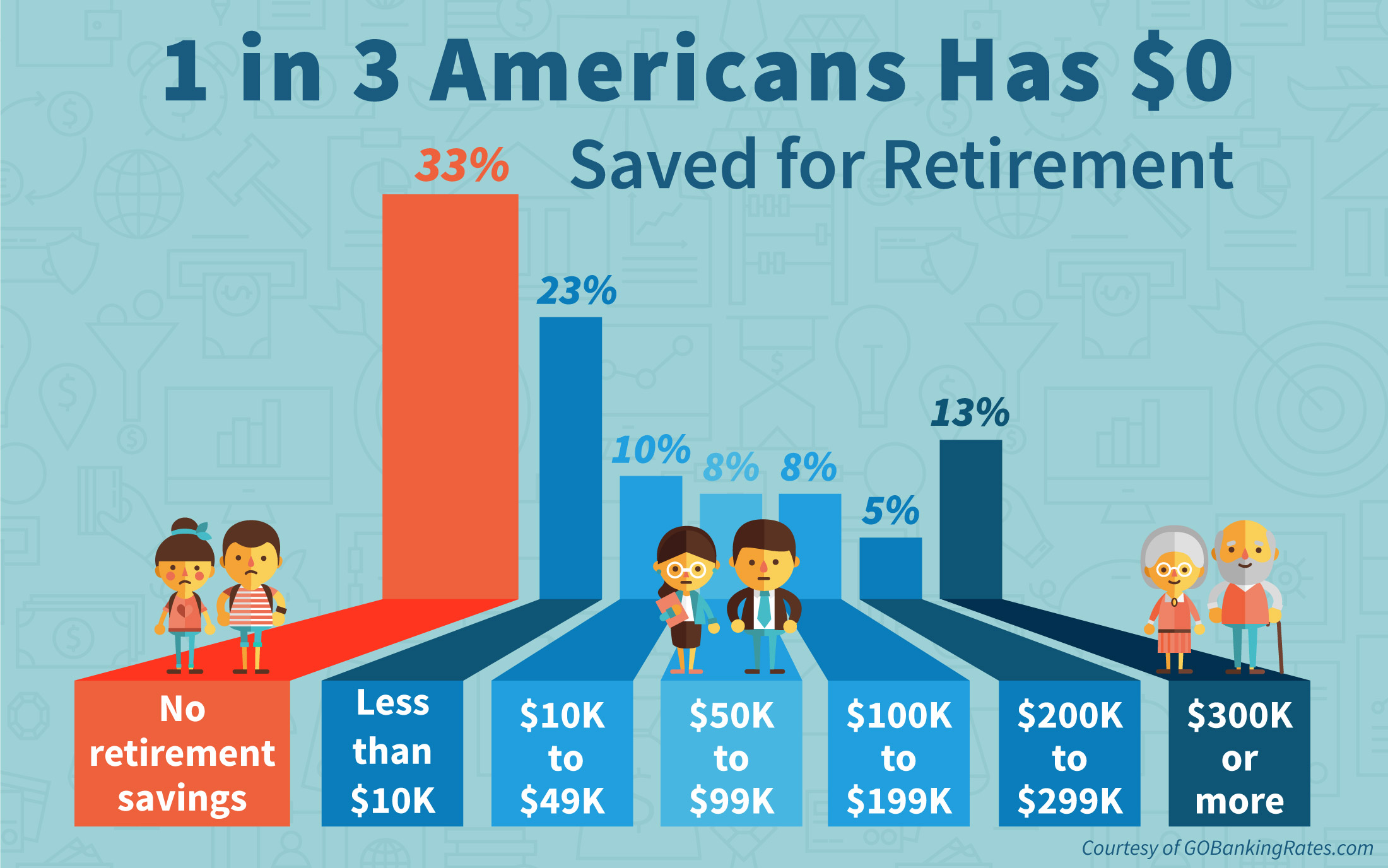 What Employers and Policymakers Could Do to Help

James Brewer, president of Envision Wealth Planning in Chicago and president of the Association of African American Financial Advisors says African Americans need financial advice on issues such as having higher student loan debt than white counterparts and, often, a greater need to financially assist less affluent family members. Maya Rockeymoore, President of Center for Global Policy Solutions in Washington, D.C. says African Americans, even in retirement, tend to support other family members, including children and adult children. Also, they are disproportionately taking care of grandchildren, making them unable to save more for retirement.

All in all, says Rockeymoore: 
"There needs to be a national campaign to encourage young African Americans to save and invest. Home ownership is the pathway to wealth. They [blacks] need to be educated in the homebuying process and also to diversify their investments to include stocks and bonds."
Borrow $5,000, repay $42,000 - How super high-interest loans have boomed in California
JoAnn Hesson, sick with diabetes for years, was desperate.
After medical bills for a leg amputation and kidney transplant wiped out most of her retirement nest egg, she found that her Social Security and small pension weren't enough to make ends meet.
As the Marine Corps veteran waited for approval for a special pension from the Department of Veterans Affairs, she racked up debt with a series of increasingly pricey online loans.
In May 2015, the Rancho Santa Margarita resident borrowed $5,125 from Anaheim lender LoanMe at the eye-popping annual interest rate of 116%. The following month, she borrowed $2,501 from Ohio firm Cash Central at an even higher APR: 183%.
"I don't consider myself a dumb person," said Hesson, 68. "I knew the rates were high, but I did it out of desperation."  
Not long ago, personal loans of this size with sky-high interest rates were nearly unheard of in California. But over the last decade, they've exploded in popularity as struggling households - typically with poor credit scores - have found a new source of quick cash from an emerging class of online lenders.
Unlike payday loans, which can carry even higher annual percentage rates but are capped in California at $300 and are designed to be paid off in a matter of weeks, installment loans are typically for several thousand dollars and structured to be repaid over a year or more. 
The end result is a loan that can cost many times the amount borrowed.  
Hesson's $5,125 loan was scheduled to be repaid over more than seven years, with $495 due monthly, for a total of $42,099.85 - that's nearly $37,000 in interest.